MAC 10 1/2" Black Ceramic Honing Rod with Grooves (SRB-104)
MAC Knife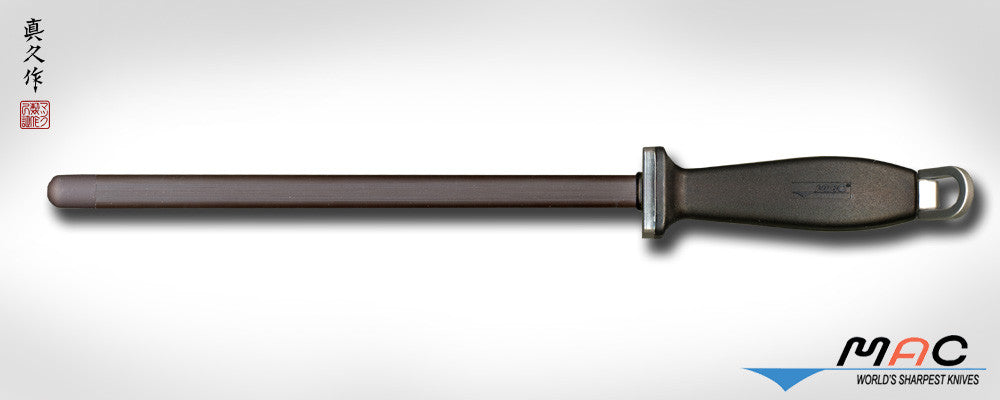 New Feature!  The new black ceramic rods now feature two grooved sides (on opposite sides of the rod) for more aggressive honing.  Just turn the rod 90° to use the grooved sides or smooth sides.  Be sure to view additional product images above.
New Feature!  The new rods still have the same rubberized end cap but it is now flush with the diameter of the rod to reduce "catching" on the knife. Be sure to view additional product images above.
This 10½" honing rod has a medium (approximately 2000 grit) surface that polishes your edge smooth.  This rod has a steel core with rubber in between to reinforce the rod while providing shock absorption.  The tip has a rubberized plastic end cap to absorb shock and to stabilize the rod against your cutting board when using it.  The black ceramic material is a new type of ceramic that is much harder than traditional white ceramic.  This means it will quickly realign an edge and works well on harder Japanese steel knives which tend to have a higher Rockwell (hardness).
Similar in function to a traditional European "steel" these rods are meant to "hone" or gently realign your edge.  Use it daily in commercial restaurant environments or once every few weeks in home environments to maintain a fine edge.  This does not replace sharpening which you should still do every couple of weeks (restaurant) or every couple of months (home).
Ceramic honing rods are a much harder material than a traditional steel and have a much finer grit which obtains faster and better results.
Special warranty on this product:  Lifetime warranty.  We will replace this product at any time if the ceramic breaks.  Simply return the damaged rod and pay a processing fee of $15.00 and we will send you a replacement.
Advantages: More efficient than white ceramic or steel.  Produces a fine edge.  Break resistant. Lifetime replacement option.
Disadvantages: Only hones, does not sharpen.
This item is made in Taiwan.
UPC: 854911000716